1A3i
RESTRUCTURING UNSTRUCTURED DOCUMENTS
1A3i is leader of a European project
As an innovative company, 1A3i has set up the project RUD:"Restructuring Unstructured graphical Documents". This project implies different companies and research center in France, in Portugal and in Canada. The project RUD has stared in April 2021 and will last 30 months. It aims at developing and validating innovative integrated technologies capable of performing searches and comparing both unstructured and heterogeneous files, this is, non-structured data from 2D files/3D models. RUD tools will allow to classify and (re)organize documents and 3D models. The main challenge is to successfully integrate it in the field of restructuring vector graphics files, and made a link with ERP (Entreprise Resource Planning) and MES (Manufacturing Execution System) of large companies.
EN SAVOIR PLUS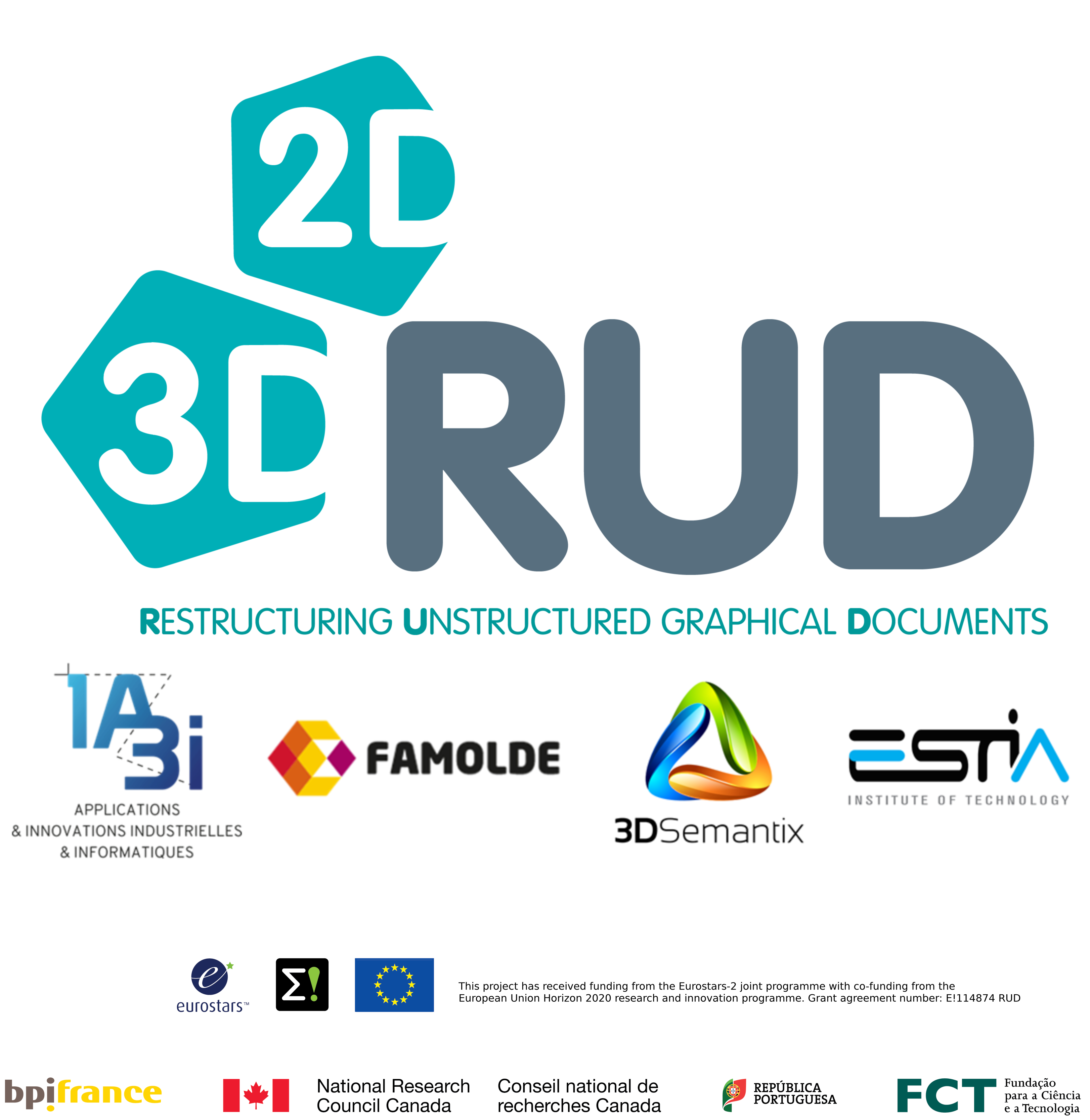 RESTRUCTURING UNSTRUCTURED DOCUMENTS : THE VIDEO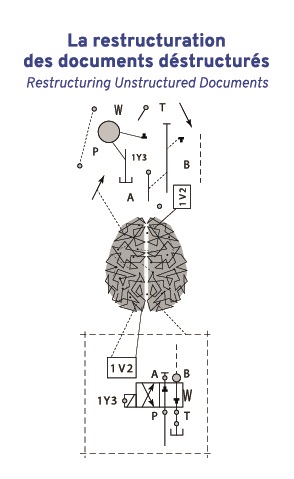 RESTRUCTURING UNSTRUCTURED DOCUMENTS
Restructuring destructured documents is a complex operation.
Many different techniques can be used to successfully restructure, such as ;
ontology
stringology
deep-learning
data mining,
big-data analysis
Knowledge Discovery in Databases (KDD)
Artificial Intelligence (AI)
Computer Human Interfaces (CHI).
MORE
WHAT IS A DESTRUCTURED DOCUMENT ?
Everyone has displayed, printed or even created destructured files.
eg. boarding passes received in  PDF® format (Portable Document Format).
You can  :
consult 
print out your boarding pass
but you cannot make any changes.
It is a Word file you send by email after having saved it as a PDF® document. The aim of PDF® files is to keep the document's original page layout and therefore avoid them being modified …..
In the world of industry, the problem is the same, except for the fact there are many more destructured file formats.
MORE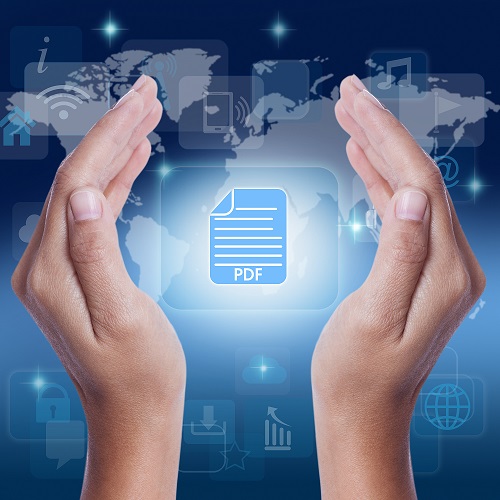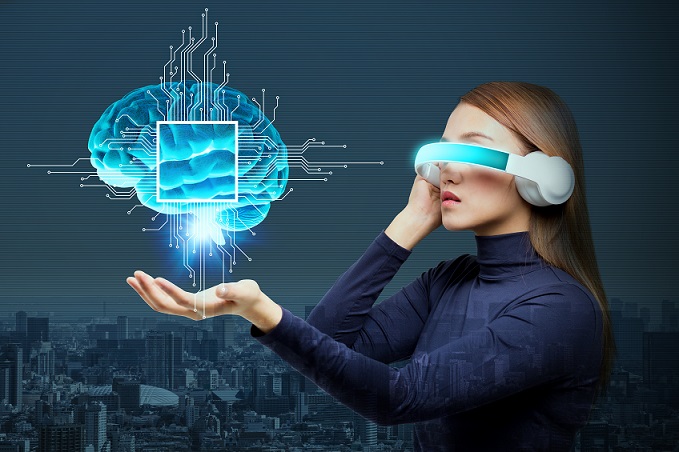 WHY RESTRUCTURE A DESTRUCTURED DOCUMENT?
To enable the information contained in a destructured document to be modified and used.Restructuring destructured documents makes it easy :
to modify them
you can enrich them by adding or removing information,
as well as extracting all their knowledge for use in other software. 
The well-know slogan "Yes, you can" is perfectly suited to what you can do when you restructure a destructured document.
Restructuring operations for destructured documents are true gold mines for those who are able to do so.
Restructuring a boarding pass is of little interest. However, in the tertiary sector and industry, restructuring documents will make them valuable once more.
MORE
WHICH DOCUMENTS NEED RESTRUCTURING?
In 2020 the volume of digital data will be:
40 zettabytes,
this is a huge amount
40 followed by 21 zeros = 40 000 000 000 000 000 000 000 bytes).
Today over 99% of information is digital and is entirely produced by digital systems or software.
This volume doubles every 9 months. This is an impressive rate of growth
And 75% of data is destructured.
Our aim: TO RESTRUCTURE Graphic documents:
building plans
hydraulic, electric, pneumatic, electronic diagrams;
diagrams of industrial processes;
highway plans,
etc….
MORE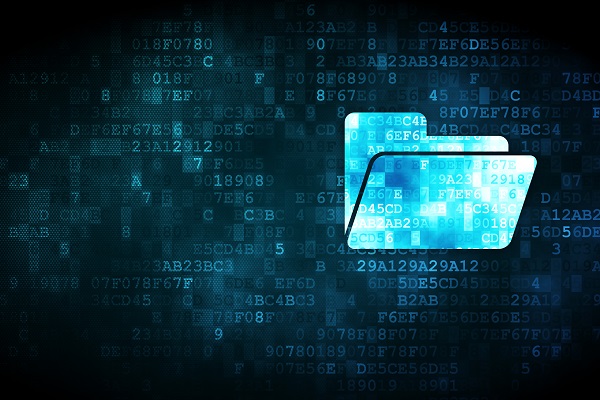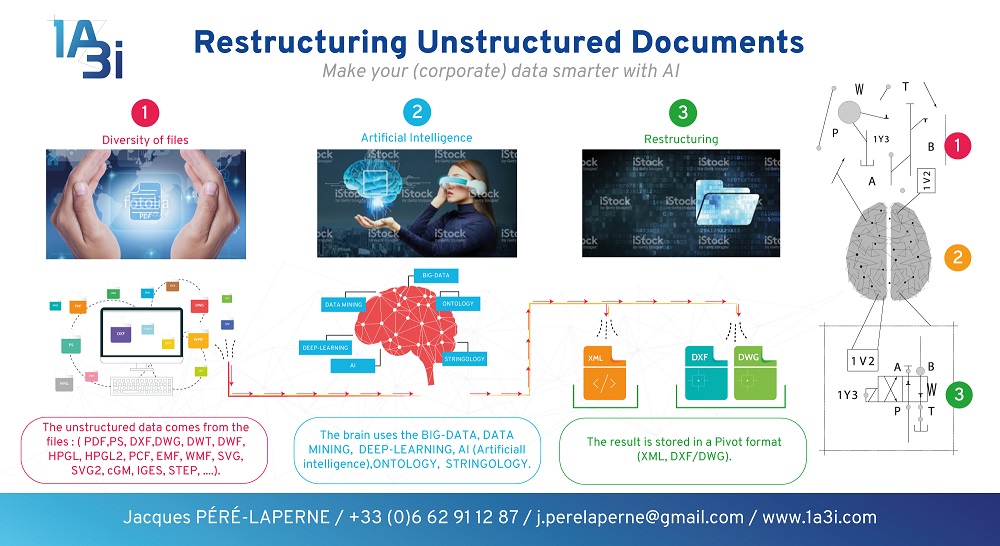 HOW?
It's really simple. All projects begin with proof of concept based on your data:
Using the form, you can send us:

A detailed description of what you want to do with these files
The volume of data to be dealt with
The deadline for your project with completion dates

Please send us your destructured documents by file transfer, eg. ''We Transfer'' (A confidentiality agreement can be signed prior to this).
We will tell you what we can do and in what conditions.
RESTRUCTURING UNSTRUCTURED DOCUMENTS

EXHIBITION PARTICIPATION
CES LAS VEGAS 9 AU 12 JANVIER 2017
Contact us
Phone :
Email :
Address :
97 allée Théodore Monod, Technopole IZARBEL, 64 200 BIDART, FRANCE